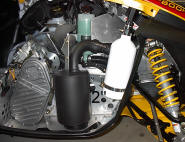 Nitrous bottle pressure is determined solely by bottle temperature, not by the amount of nitrous in the bottle. As the temperature increases, the pressure increases, and this pressure change causes an undesirable change in nitrous delivery when using a fixed nitrous jet. We have addressed this problem with our patented (Pat. 6,938,841) nitrous nozzle which changes jet size with bottle pressure, maintaining a relatively constant nitrous flow over the typical range of nitrous bottle pressures encountered. This nozzle is especially suited to snowmobile applications where nitrous bottle pressures can be as low as 300 PSI but can rise to 900 PSI after the sled is warm.
We have nitrous kits (NK)for carbed (-CARB)or fuel injected (-FI) machines. We have air box (AB) nozzles which spray a fan pattern into an air box, or direct spray (DS) nozzles with a conical spray pattern for filters or open throttle bodies. Because our nitrous nozzles provide constant nitrous flow even with changes in nitrous pressure, we sell our nitrous kits based on nitrous flow rate (grams/second). Each one gram/sec of nitrous supplies a 2.5 - 3 horsepower increase in a four-stroke engine and 2.0 - 2.5 for a two-stroke. For instance, for a 10 gram/second nozzle, four-stroke horsepower increase will be about 25 - 30, two-stroke horsepower increase will be 20 - 25.
DESIGN YOUR OWN KIT
First decide how much horsepower you want and work backward using the horsepower vs. nitrous delivery rate above. For instance, if a 40hp increase is desired for a 4-stroke engine, divide the horsepower increase (40) by 2.75 (2.5 - 3), giving a required total nitrous delivery to the engine of about 14.5 grams/second.
Next select the nozzle(s). We have air box (AB) nozzles with flows of 10, 12, 15, and 20 grams/second and direct spray (DS) nozzles with flows of 7.5, 10, 12, 15, and 20 grams/second. If it is a 2 cylinder engine with filters, this would use two 7.5DS nozzles and the kit number is NK2@7.5DS-CARB or NK2@7.5DS-FI2. If the machine has an air box, you can use one 15AB nozzle, and the kit number is NK1@15AB-CARB or NK1@15AB-FI2.
Our price list show several kit examples but this by no means limits our capabilities. Many of our nitrous kits are specials, and there typically is little extra charge. We have model-specific kits for Polaris Fusion and IQ and Yamaha Apex, RX-1, and the new Phazer.
Shown to the left is our new patented (Pat. 7,082,933) combination nitrous and fuel solenoid. Drawing only 15 watts, it provides efficient operation, and its convenient mounting stud simplifies installation.
Nitrous Snowmobile
Snowmobile Nitrous