Three Stage Computer Module
Ford Powerstroke from 1999-2002


The ATS three-stage computer module is the most comprehensive and best-designed module in the industry. This module lets the drive go from a stock horsepower setting to a tow program that when coupled with the ATS 4" stainless exhaust will increase performance approximately 70 H.P. or flip the switch to the next setting which yields an addition 100 H.P. over the stock setting.


The new ATS three stage module fits inside the back of the stock ECM and has a plastic cover that snaps into place. This module is held securely in place and does not require that the stock ECM cover box be modified, as do most other modules. The new ATS three stage module communicates with all four memory-banks of the stock ECM. This is very important. All other modules to date communicate with only one memory back of the stock ECM. What does this mean to the consumer?


If you go into your local Ford dealer for a problem of any kind, the dealer will automatically install the latest ECM updated code for your vehicle. This is fine, except now, if you do not have the ATS module, which communicates with all four of the stock memory banks, your module no longer works.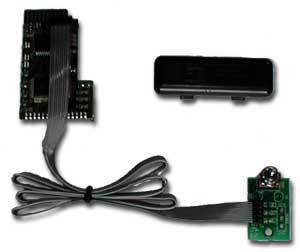 You then have to get your module updated to match the new code that your Ford dealer just installed into your ECM. With the ATS module, all of the new updates are invisible to the ATS module and everything still works as it did before your dealer installed the new code.


The ATS module for your Powerstroke also increases shift pressure in the automatic transmission. It changes ramp pressure and ramp time before the shift, and holding pressures after the shift. All of this is done in the ATS module in order to help transmission longevity and integrity. The need for external shift devices is not needed or wanted.
*Computer Module May Not Meet California Emissions.