HYMARK BALL BEARING CARRIER ASSEMBLY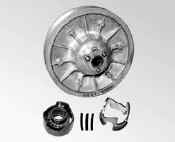 The Hymark Performance Ball bearing carrier for the Ski-Doo driven clutch is very unique in design. This carrier assembly slides over the shaft of the stationary sheave and into the movable sheave taking the place of the original helix. This Hymark Performance ball bearing carrier is machined out of aircraft quality aluminum. And is hard anodized to increase life and reduce friction. This bearing carrier uses special sealed ball bearings that are designed to handle the high torque loading created by large displacement engines. The bearings fit in special designed bearing pockets. Dowel pins hold the three bearings firmly in position and are supported on both sides. This makes bearing replacement simple if the need ever occurs. With the Hymark Performance ball bearing system installed in the Ski-Doo driven clutch, performance is greatly enhanced. The snowmobile will accelerate quicker and back shift much quicker. Belt life will increase due to significantly reduced clutch temperatures. The much improved clutch efficiency means more horsepower can be delivered to the track at all speeds. Hymark Performance is not only the leader in bearing clutch technology but the only company to build a system that simply drops into the stock Ski-Doo driven clutch with no machining necessary. Each and every snowmobiler can benefit from using the Hymark Performance ball bearing driven clutch system!

Note: When ordering one bearing carrier assembly and one helix as a unit, order helix part# KIT. Example: 88-S47.5 Kit.

88-SMB00378A: Bearing carrier assembly

88-D2220-20PS: Replacement bearings
SKI-DOO HARDENED STEEL RADIUSED HELIX
The Hymark Performance helix is a hardened steel single point contact radius helix. This insures center contact of the roller bearing surface throughout a variety of helix angles. Hymark Performance has developed a series of helix angle profiles with our patented radiused contact surface. This helix is very unique in design and is machined to fit into the bottom of the moveable sheave and over and around the moveable sheave button towers. The helix is held into position by using three "O"-ring segments that fit into the "O"-ring grooves that are machined in the helix. Even though the radiused helix is made of high quality steel that is heat treated to near bearing hardness, the special design adds only ounces to the driven clutch. Each Hymark Performance helix is designed to last a lifetime.
88-S45 Helix
88-S47.5 Helix
88-S50 Helix
88-S55/45 Helix
88-S50/40 Helix
Note: We do have some other helix angles available
SKI-DOO HELIX APPLICATION CHART

88-S50 Degree Helix
0 TO 4000 ft. elevation
88-S47.5 Degree Helix
4000 TO 8000 ft. elevation
88-S45 Degree Helix
8000 TO 12000 ft. elevation
HYMARK DRIVEN CLUTCH SPRINGS
Hymark Performance has developed several new springs for our ball bearing clutch systems. We have also developed spring torque charts and spring compression charts in order for one to more fully understand which spring or springs would be desired. We would recommend as a starting point for all of the Ski-Doo application, the use of our 88-HY206G, or our 88-HY201W spring, with the use of the helix recommended for the elevation that one operates the snowmobile in.
88-HY188P: Spring .188" wire diameter
88-HY192Y: Spring .192" wire diameter
88-HY201W: Spring .201" wire diameter
88-HY206G: Spring .206" wire diameter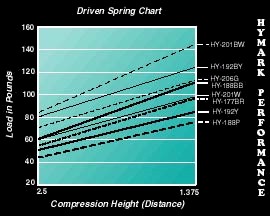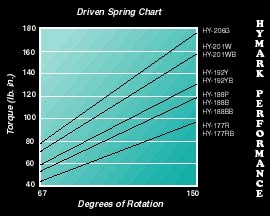 | | | | | |
| --- | --- | --- | --- | --- |
| PART# | COLOR | HEIGHT | NUMBER OF COILS | COIL CENTER DISTANCE |
| 88-HY188P | Purple | 4 1/4" | 5 | 7/8" |
| 88-HY192Y | Yellow | 4 1/4" | 5 | 7/8" |
| 88-HY201W | White | 4 1/4" | 5 | 7/8" |
| 88-HY206G | Gold | 4 1/4" | 5 | 7/8" |
ROTAX PTO SEAL PROTECTOR/RETAINER
Getting tired of having to replace the PTO crankshaft seals caused by the belt breaking, excessive crankcase pressure, or engine backfires? Hymark Performance has designed a seal protector that also acts as a seal retainer. There are two seal retainers, one that fits the 617 and smaller Rotax engines and one that fits the new case 670 Rotax engine. These seal retainers are made to mount in existing threaded bosses in the crankcase. These seal protectors are a must for modified or turbocharged Ski-Doo in order to keep the seal from being forced out of the crankcase. This seal protector/retainer is made of stainless steel for strength, durability and corrosion protection. Every snowmobiler that uses a Rotax engine should have this unit mounted to the engine.
88-583 Seal Protector / Retainer
88-670 Seal Protector / Retainer